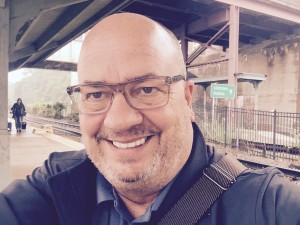 My name is Michael Higgins.  I have taught at Douglas Anderson School of the Arts in Jacksonville, Florida for over 20 years.  In that time i have taught at the sophomore and junior level; playwriting and play analysis, theatre history, directing and the newly formed selective acting class, Company.
My education began at the University of Northern Colorado with a BA in Theatre, English, and Education.  A busy three years I will tell you.  I then got my first teaching gig at Harrison High School in Colorado Springs and the one-man drama show for the school.  Having taught there for a handful of years I moved on to graduate school – starting off first with the MFA Directing Program at Boston University and finally earning my MFA in Playwriting form Pennsylvania State University in State College, PA.  Florida brought me to Bolles School for 6 years and I got hooked on Florida State Thespians and International Thespians – – and I loved to mount productions that got invited frequently to both venues.
In 1993, I was elected by drama teachers throughout the state of Florida to the position of State Director of Florida State Thespians.  As State Director for 18 years, I organized and managed the largest high school theatre conference in the world (over 3,000 students attending annually – – and for the 18 year term of office over 40,000 students).
I love theatre.  I often have a lot of problems with "high school theatre," but I love theatre.  I know what it can do.  As I tell my students, I am a poor actor, a more then adequate director, an exceptional stage manager – – but (not to brag too much) a world-class audience member.  World class!  I am to audience what Meryl Streep is to acting.  World class!  And it is this devoted and sacred title that I seek to share with my students every day.