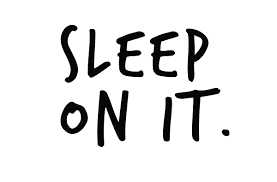 Callbacks done; cast list is due tomorrow. For tonight, I just gotta sleep on it. I read the play before dinner to see if I can see the people that I saw when I saw them at callbacks. Some of it makes sense. Some of it doesn't. The actors "almost chosen" make sense of this page but are way off target for this page. I like her. I like him. But I am not sure that I like him with or – or on this page – or in this scene – – . He's funny – but was he funny just for me. Would he be funny for the actual ticket holders of the play?
Time to eat – – then once more with the read through. Now it's different. How about a different list? How about I get rid of them all and start fresh? Or do I trust my first impressions? Or are those impressions governed more by my lack of sleep or coffee at the time – or my mood – or the time?
Grab list.  Put in briefcase.  Trust.  Sleep.